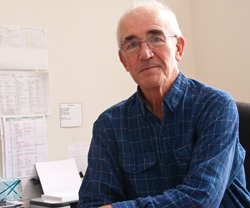 NEW ZEALAND (CelebrityAccess) – Ian Magan, the prominent New Zealand concert promoter and pirate radio pioneer who founded the nation's first privately owned commercial radio station Radio Hauraki, has died. He was 80.
"Radio Hauraki is deeply saddened to hear of the passing of Ian Magan. A true legend of New Zealand broadcasting and one of the original pirates. We would not be here today if it wasn't for his vision and bravery. Our thoughts are with his family and friends. Rest In Peace," the radio station said in a statement following Magan's passing.
According to the New Zealand Herald, Magan was one of the original on-air hosts of Radio Hauraki, which started as an ocean-going pirate radio station in a country where all radio outlets were controlled by the government.
In 1969, after the radio monopoly was relaxed, Radio Hauraki became the first privately owned commercial radio broadcaster in New Zealand.
In 1975, after exiting Radio Hauraki, Magan went on to found concert promoter Concert Promotions Company which later became Pacific Entertainment. Magan first with worked regional acts such as Split Enz, but later brought international talent such as Billy Joel and Elton John to the island nation.
In addition, Magan was active in numerous professional organizations, including serving as Chairman of the New Zealand Entertainment Operators Association.
New Zealand musician and promoter Gray Bartlett, who partnered with Magan commented on his colleague's passing on Facebook, noting that Magan was "He was a pioneer and when we joined forces, we were unstoppable."