NIAGARA, Ontario (CelebrityAccess) – Tom Cantone, the man credited with revolutionizing casino entertainment, is at it again. The President of Mohegan Sports & Entertainment Worldwide booked Billy Joel for the historic Grand Opening debut of Canada's newest Fallsview concert venue in Niagara, Ontario.
With a 5,000-fan capacity, the show was more intimate than Joel's usual residency gigs at Madison Square Garden but was sold out and was covered by news outlets across Canada with headlines such as: "Billy Joel Hits The Jackpot Opening New Stage" – "Billy Joel Delivers" – "He Got Us In A Fallsview State of Mind".
The show also generated significant buzz on social media and had a mass media outreach of over 111 million people and a media value of over 1 million dollars, according to the team at Mohegan Gaming & Entertainment (MG&E).
As part of the grand opening celebration, Niagara's Mayor Jim Diodati lit the iconic waterfall green in honor of Joel's favorite color and the Fallsview campus was turned into a Billy Joel theme park, with multiple themed displays and the piano man's music playing throughout the property.
Special events around the venue's grand opening included a ribbon cutting ceremony for the OLG Stage at Fallsview Theatre that included some of Canada's top government and tourism officials and multiple themed parties throughout the campus," said Cantone.
"The team at Fallsview executed a flawless marketing campaign and deserves full credit for making this entertainment event historic," he added.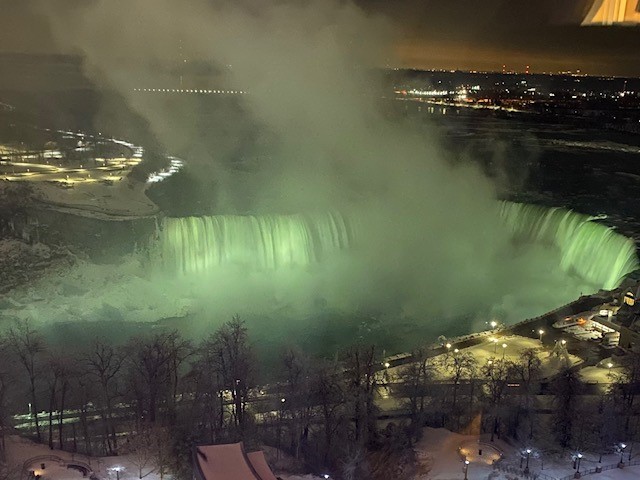 "This was the biggest event since we opened" noted Fallsview General Manager (GM) Richard Taylor with Mayor Diodati adding, "This will go down among the Top Two events ever staged including Nik Wallenda's walk across the Falls."
The night before Joel's concert, Cantone and Dennis Arfa, Joel's longtime agent and Cantone's longtime friend had a special dinner to celebrate this historic opening.
"It was an evening I will cherish; we went down memory lane together and said how lucky we both are to do what we love and make memories for millions of people at the same time," Arfa said.
"Tom Cantone is a legend and a friend for life, Billy did his first-ever residency with Tom at Mohegan Sun Arena, we broke a record together," Arfa added.
Now Joel is breaking records at Madison Square Garden (MSG) on his way to setting even more for consecutive sellouts.
"I like to think when luck meets opportunities great things happen and I read some research that said going to a concert extends the quality of life, then these 'pinch me moments' will live forever," said Cantone.
"Dennis has said many times, these moments are magical, we're just throwing a big party," Cantone continued.
The show underscores what Cantone and his team have built, a world-class entertainment program that has been called the "Decade of Excellence," has won numerous national awards and consistently is ranked among the world's best venues.
Cantone concluded with, "Nothing successful at this level happens until you put people first and full credit goes to our culture of doing just that here at Mohegan. The men and women who run these venues and produce these signature events on the world's biggest stage are the reason why artists want to not only play here but start their tours here."