JAPAN (CelebrityAccess) – Japanese concert promoter Seijiro Udo, fondly called "Mr. Udo," passed away Sunday (October 15). News of his death was announced via his company and current UDO Artists, Inc. (UDO) President Keisuke Endo. The company's X (formerly Twitter) statement reflects Mr. Udo passed away due to "senility," and "old age" is listed as the cause of death on the UDO official website. He was 92.
X statement:
"It is with great sadness to announce that the Japanese Concert Promoter, Seijiro Udo, a.k.a. Mr. Udo, passed away at 3:18 a.m. on Oct. 15 at the age of 92 due to senility."
UDO official website: 
"Our founder, Seijiro Udo, passed away at 3:18 a.m. on October 15th at the age of 92 due to old age. The deceased was from the early days of Western music live performances, inviting various artists including rock to live performances and serving Western music fans," and provided a quote from the deceased.
More than anything, I have made it my purpose in life to make people happy. I would like to express my deepest gratitude for the many people who have come to our concerts.
Born February 5, 1931, in Kumamoto Prefecture, Mr. Udo started his career in his early 20s at Kyodo Kikaku through cooperative planning and founded Udo Artsts, Inc. in 1967. During his 5-decade career, he was a pioneering trailblazer in exposing Japan to Western music and had lived his life enjoying pleasing live music fans.
He had a hand in bringing several major international acts to the country, including KISS, Santana, Bon Jovi, Bob Dylan, Van Halen, Bryan Adams, Eric Clapton, Aerosmith, Jeff Beck, Bruce Springsteen, George Harrison, TOTO  The Who, Billy Joel, David Bowie and many others – holding a total of over 10,000 concerts in his home country, earning the respect of many artists.
The legendary artist Prince sang "Happy Birthday" to Mr. Udo at the Tokyo Dome on February 5, 1989, after Mr. Udo booked and promoted his show.
Upon hearing the news of his passing, music fans and several music industry members took to social media to express their condolences.
X (formerly Twitter): user hiro – "mr.UDO was a promoter trusted by many artists. Thanks to him, I was able to see various concerts. R.I.P."
X: Whitesnake's David Coverdale (@davidcoverdale) – "Such sad News…Thank You, Mitch… My sincerely Condolences To His Family, Friends, & Associates."
Facebook: Eric Martin – songwriter/singer for Mr. Big (@EricMartinOfficial)  – "Hey ..E here.I just heard the sad news that our Promoter in Japan, the legendary Mr. UDO, has passed away …He was our hero and savior for years.. Mr. Udo and his crew made our band BIG in Japan, no question about it. All my love to his family and the gang @UDO Inc. I take my final bow to my friend and our manager, Tim Heyne, who just broke the news to us and said, "He was the last of Giants"! Amen to that.RIP Udo san.."
X: Mitch Lafon (@mitchLafon) – "We knew him in Canada. He gave the gift of music to many."
X: The Mighty Van Halen (@VanHalenVault) – included a picture saying, "Booked Van Halen in Japan for the first time in 1978."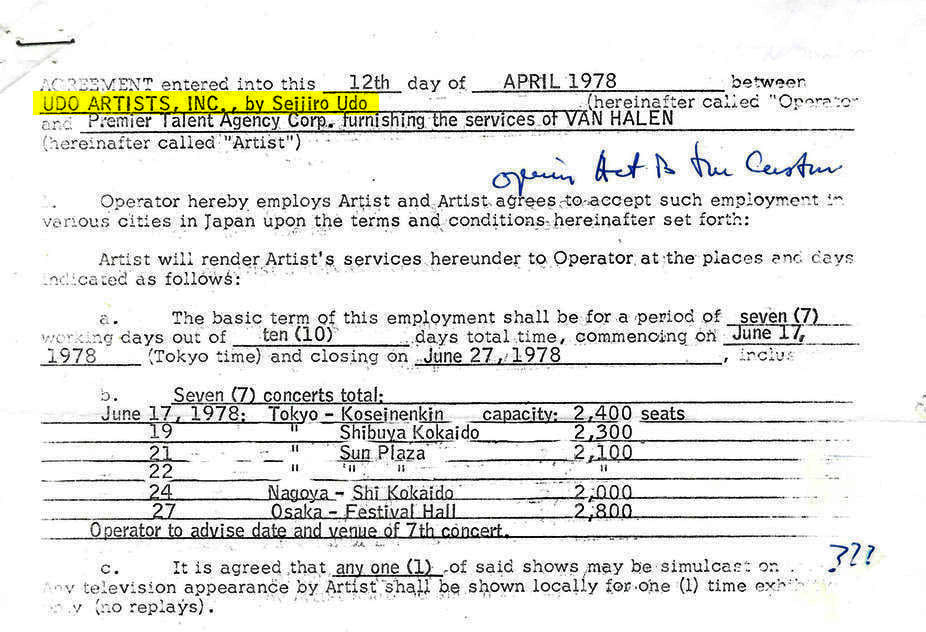 Nuno Bettencourt of the band Extreme posted a heartfelt message on his official FB page (@nunorocks):
Mr. Udo.

You were not only one of the greatest promoters in the world who, at a young age, brought over the most iconic bands in the world, from the Beatles to Led Zeppelin, but you also took chances on unknown bands like us, Extreme. But unlike most promoters around the world… whether an artist was selling out the Tokyo Dome Stadium … like Elton John or playing a small club in their humble beginnings… You would treat EVERY single artist with the same respect, honor and care as if we were all headlining the massive stadium.

You always went out of your way to make us feel special. It is very rare in any other country or company that THE founder and big promoter actually shows up himself in person to your show and personally takes you, every tour, to the most incredible once-in-a-lifetime dinner and brings so much joy and laughter to one evening together. How blessed am I to have experienced nearly 40 years of those once-in-lifetime moments with you?

But having said all that … it is with tears rolling down my face that I say this. You were so much more to me than a promoter… you were like a father to me. You treated me with the love and affection of a son that, quite frankly, I had never felt from my own father. And that meant the world to me. Touring Japan will never, ever be the same. I love you and already miss your loving hugs and smiles.

Rest In Peace, my friend.
UDO's company statement expressed their intent to carry on their founder's wishes, stating they "will continue to offer more concerts that will remain in the hearts of music fans in the future, following the will of the deceased."
RIP.