LOS ANGELES (CelebrityAccess) — Folk legend Joni Mitchell made a rare public appearance on Wednesday as she attended a tribute concert to mark her 75th birthday.
The event, JONI 75: A Birthday Celebration Live at the Dorothy Chandler Pavilion featured two nights of music in front of sold-out crowds.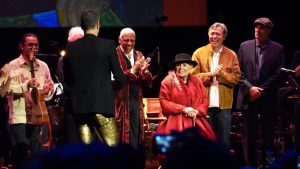 Mitchell was only in attendance for one of the two evenings and, according to the Washington Post, she didn't speak at the event. Mitchell suffered a debilitating aneurysm in 2015 and has largely left the public eye since.
"You know, Joni has had a long and arduous recovery from a really major event, but she's doing so much better," James Taylor, a longtime friend of Mitchell told the Associated Press before the show.
According to the Post, Mitchell needed help getting to her seat but received a standing ovation from the crowd.
While Joni didn't take the stage herself, there was no shortage of star power on hand to perform hits from her repertoire. The list of performers for the event included James Taylor, Chaka Khan, Kris Kristofferson, Seal, Diana Krall, Los Lobos, Brandi Carlile, Rufus Wainwright, Glen Hansard, Norah Jones, and Emmylou Harris.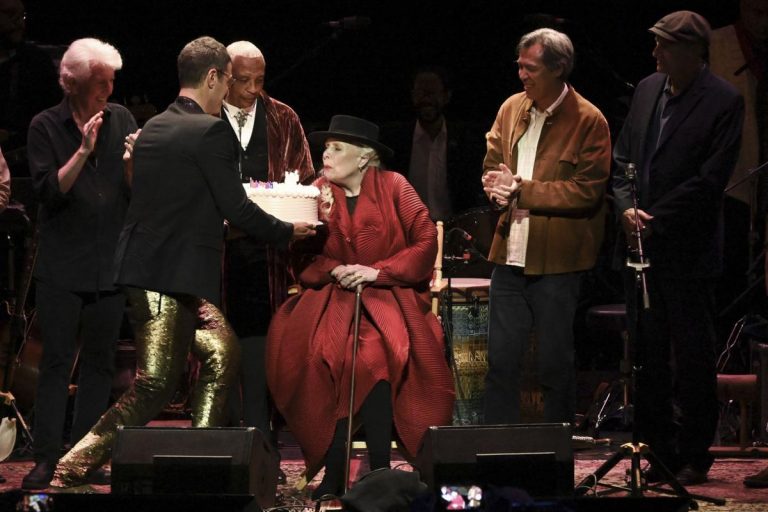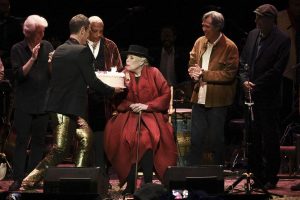 Other performers paid tribute to Joni via video, including Elton John, and Peter Gabriel, who praised Mitchell's artistry and expressed sympathy for the artists who would perform renditions of Mitchell's challenging and complex music.
In addition to a celebration of Mitchell's remarkable career, the birthday bash was also a fundraiser for the Music Center's artistic programming for underserved communities. According to Variety, the concerts raised more than $1.1 million for the cause.
The concert will be shown on PBS's Great Performances in 2019, and a live album of the concert is also in the works.