(CelebrityAccess) Lorde recently accused Kanye West and Kid Cudi of stealing her stage show set design but the accusation may have backfired.
Lorde apparently noticed the duo used a set design for its performance of the collaborative album Kids See Ghosts at Camp Flog Gnaw over the weekend that matched one that she used on her last tour.
i cried a good 7 times during the Kids See Ghosts set. I still can believe i saw Kanye and Kid Cudi, it was euphoric. pic.twitter.com/XqNcGvBZeY

— briefcase wanker (@vaaallybear) November 12, 2018

She posted an Instagram story of her in a floating glass box stage design alongside photos of Kid Cudi and West in the similar stage setup, using the word "steal" and, for some reason, interjecting gender into the mix.
"I'm proud of the work I do and it's flattering when other artists feel inspired by it, to the extent that they choose to try it on themselves," she said, "but don't steal — not from women or anyone else — not in 2018 or ever."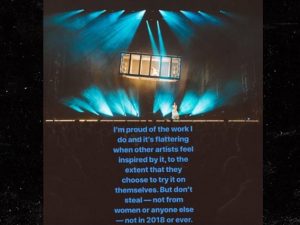 The stage prop was used during Lord's "Melodrama" tour and Coachella appearance last year.
However, it has been revealed that the "floating box design" is that of creator Es Devlin, who worked on Kanye's set designs since 2005 and his Touch The Sky, Glow in the Dark, Watch the Throne, Yeezus and Saint Pablo tours, according to TMZ.
The Instagram post says that Devlin debuted the floating box for the English National Opera in 2007 and it was, "clearly, the first time the design was used," TMZ said, "and disabling Lorde's claim in an interview that she came up with the concept on her own … it was always Devlin's."
Complex noted that Lorde is a self-professed fan of West and covered his song "Love Lockdown" while on tour in Chicago.