NASHVILLE—The Country Music Association will honor the Messina Touring Group's CEO Louis Messina with this year's CMA Touring Lifetime Achievement Award. Messina received the news personally from Country legend George Strait, who made a surprise phone call last Friday morning. Final voting for the CMA Touring Awards, which highlight vital behind-the-scenes members of the touring industry, closes Thursday, Dec. 13. The CMA Touring Awards will take place Monday, Jan. 28 at Nashville's Marathon Music Works. Jerrod Niemann will return to host the ceremony.
"I'm incredibly humbled by this honor from CMA and its membership," said Messina. "Having George Strait call and tell me the news was so powerful, so meaningful, so special and a moment I will always cherish. I'm especially proud of the team we've built and the clients we work for, and this distinction caps off an incredible year for us all. I remain thankful to so many people. You have now rendered me speechless."
"The touring industry is a vibrant part of our business and Louis is very deserving of this recognition," said Brandi Simms, CMA Senior Director of Awards & Industry Relations. "His vision and passion for the artists and the touring community is an inspiration to those fortunate enough to have worked with him. He is a world-class promoter and it's no surprise to me that he was chosen to receive the honor of CMA's Touring Lifetime Achievement Award."
As CEO of Messina Touring Group, Messina promotes the tours of heavy-hitters such as Kenny Chesney, Eric Church, Tim McGraw and Faith Hill (Soul2Soul), Shawn Mendes, Ed Sheeran, Blake Shelton, Strait, Taylor Swift, and The Lumineers. Over his 50-year career, he has promoted a variety of acts including the Dixie Chicks, Led Zeppelin, Metallica, and Nickelback.
Messina began booking small shows as a high school student. Building a solid reputation, he moved onto club and theatre acts in and around New Orleans and the Gulf Coast. In 1975 Messina moved to Houston and (with longtime friend and mentor, Allen Becker) co-founded PACE Concerts. Under his direction, PACE Concerts gained regional and national acclaim among artists, agents, artist management and competing promoters. As the company evolved from PACE Concerts to SFX then to Clear Channel Entertainment, Messina established himself as one of the country's preeminent promoters. In addition to promoting club, arena and stadium acts, Messina conceived and created the George Strait Country Music Festival, Ozzfest (along with Sharon Osborne), Texxas Jam, Van Halen's Monsters of Rock and the Fleetwood Mac reunion tours. Since establishing The Messina Group, Messina has been the exclusive concert promoter for Chesney, Strait and Swift.
Messina is known for special events and record-setting stadium concerts such as the Jimmy Buffett—George Strait—Alan Jackson triple headliner at Texas Stadium and the opening event at Cowboys Stadium featuring Strait. Strait's final sellout show at AT&T Stadium, The Cowboy Rides Away, set record numbers with over 104,000 tickets sold in 2014. Swift's 1989 World Tour saw five sold-out shows at Staples Center, setting a record for the artist with the most sold-out shows at the venue (16) and all of them sold out instantly. Chesney has played 135 stadiums during his career and is ranked in the Top Ticket Sellers of the past 25 years, while only headlining the last 14. Messina has received numerous awards and honors throughout his career from the Academy of Country Music, Billboard, International Entertainment Buyers Association, Performance Magazine, Pollstar, the T.J. Martell Foundation, and Venues Today.
The announcement was made the same day that CelebrityAccess' Top Box Office Scores appeared as follows: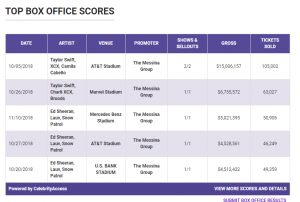 The CMA Touring Lifetime Achievement Award is for an individual who has accomplished the highest level in the Country Music field of touring. The Award was established to recognize an individual who has achieved both prominence and stature at the highest level. The individual receiving this Award has positively impacted and contributed to the growth of touring throughout a course of years that have proven to have an unprecedented historical impact on Country Music fans and the industry alike, and whose presence will have a long-term positive impact on Country Music and CMA for generations to come.
CMA members in the following membership groups are eligible to vote on the 15 categories up for awards: Advertising/Public Relations/Media, Affiliated, Artist, Entertainment Services, Marketing/Digital, Musician, Personal Manager, Record Label, Talent Agent, Talent Buyer/Promoter, Touring, and Venue. Each category contains five nominees. Ballots are tabulated by the professional services organization, Deloitte.
Final nominees for the 2018 CMA Touring Awards are as follows (in alphabetical order):
CATEGORY 1 – BUSINESS MANAGER OF THE YEAR
• Renee Allen – Arnie Barn, Inc.
• Julie Boos – Flood, Bumstead, McCready & McCarthy, Inc.
• Legina Chaudoin – O'Neil Hagaman, PLLC
• Jamie Cheek – Flood, Bumstead, McCready & McCarthy, Inc.
• Dwight Wiles – Wiles + Taylor & Co., PC
CATEGORY 2 – COACH/TRUCK DRIVER OF THE YEAR
• Ron Easley – Jason Aldean
• Caleb Garrett – Luke Bryan
• Larry "Big" Garten – Lee Brice
• Larry Phye, Jr. – Chris Stapleton
• John Stalder – Kenny Chesney
CATEGORY 3 – FRONT OF HOUSE (FOH) ENGINEER OF THE YEAR
• Kirk Kelsey – Keith Urban
• Billy Moore – Eric Church
• Chris Rabold – Kenny Chesney
• Chris Stephens – Jason Aldean
• Ian Zorbaugh – Old Dominion
CATEGORY 4 – LIGHTING DIRECTOR OF THE YEAR
• Philip Ealy – Kenny Chesney
• Justin Kitchenman – Luke Bryan
• Gavin Lake – Eric Church
• Will Lowdermilk – Darius Rucker
• Mac Mosier – Chris Stapleton
CATEGORY 5 – MANAGER OF THE YEAR
• Virginia Davis – G-Major Management
• Kerri Edwards – KP Entertainment
• Clint Higham – Morris Higham Management
• Jason Owen – Sandbox Entertainment
• Chris Parr – Maverick
• John Peets – Q Prime South
CATEGORY 6 – TOUR MANAGER OF THE YEAR
• Steve Bryan – Florida Georgia Line
• David Farmer – Kenny Chesney
• Jason Hecht – Chris Stapleton
• Jake LaGrone – Jason Aldean
• Jan Volz – Rascal Flatts
CATEGORY 7 – MONITOR ENGINEER OF THE YEAR
• Bryan Baxley – Kenny Chesney
• Cam Beachley – Miranda Lambert
• Johnnie Branham – Chris Stapleton
• Joel Stickrod – Darius Rucker
• Phil Wilkey – Keith Urban
CATEGORY 8 – PRODUCTION MANAGER OF THE YEAR
• Jay Ballinger – Dierks Bentley
• Randy "Baja" Fletcher – Keith Urban
• Todd Ortmeier – Florida Georgia Line
• Jay Schwartz – Rascal Flatts
• Ed Wannebo – Kenny Chesney
CATEGORY 9 – PUBLICIST OF THE YEAR
• Erin Burr – Big Machine Label Group
• Ebie McFarland – Essential Broadcast Media
• Tyne Parrish – The GreenRoom
• Jensen Sussman – Sweet Talk Publicity
• Wes Vause – Warner Music Group
CATEGORY 10 – TALENT AGENT OF THE YEAR
• Becky Gardenhire – WME
• Kevin Neal – WME
• Nate Ritches – Paradigm
• Risha Rodgers – WME
• Jay Williams – WME
CATEGORY 11 – TALENT BUYER/PROMOTER OF THE YEAR
• Ben Farrell – Lon Varnell Enterprises
• Ali Harnell – AEG Presents
• Patrick McDill – Live Nation Nashville
• Brian O'Connell – Live Nation Nashville
• Stacy Vee – Goldenvoice
CATEGORY 12 – TOUR CATERER OF THE YEAR
• Dega Catering
• Concert Kitchen
• Hightopps Backstage Grille
• HSG Catering
• Taste Events Catering
CATEGORY 13 – TOURING MUSICIAN OF THE YEAR
• Wyatt Beard – Kenny Chesney
• Dan Hochhalter – Dierks Bentley
• Mike Kennedy – George Strait
• Tully Kennedy – Jason Aldean
• Travis Toy – Rascal Flatts
CATEGORY 14 – VENUE OF THE YEAR
• Alabama Theatre – North Myrtle Beach, SC
• Ascend Amphitheater – Nashville, TN
• Bank of New Hampshire Pavilion – Gilford, NH
• Red Rocks Amphitheatre – Morrison, CO
• Ryman Auditorium – Nashville, TN
CATEGORY 15 – TOUR VIDEO DIRECTOR OF THE YEAR
• Zack Clevenger – Rascal Flatts
• Jay Cooper – Kenny Chesney
• Houston Creswell – Dierks Bentley
• Ryan Rushing – Luke Bryan
• Mark Willcox – Chris Stapleton
The CMA Touring Awards, originally called the SRO Awards, were created by the CMA Board of Directors in 1990 to honor outstanding professional achievement within the touring industry. The first awards were presented at a black-tie gala hosted by K.T. Oslin and Roger Miller during CMA's Entertainment Expo, also known as the Talent Buyers Entertainment Marketplace. Ten awards were presented at the first gala and the number swelled to 19 over the years before settling at the current 15. The SRO Awards were renamed the CMA Touring Awards in 2016.
About the Country Music Association
Founded in 1958 and celebrating its 60th Anniversary in 2018, the Country Music Association is the first trade organization formed to promote a type of music. In 1961, CMA created the Country Music Hall of Fame to recognize artists and industry professionals with Country Music's highest honor. More than 7,400 music industry professionals and companies from around the globe are members of CMA. The organization's objectives are to serve as an educational and professional resource for the industry and advance the growth of Country Music around the world. This is accomplished through CMA's core initiatives: the CMA Awards, which annually recognize outstanding achievement in the industry; CMA Fest, which benefits the CMA Foundation and music education and is taped for a three-hour network television special, "CMA Fest"; and "CMA Country Christmas." All of CMA's television properties air on the ABC Television network.