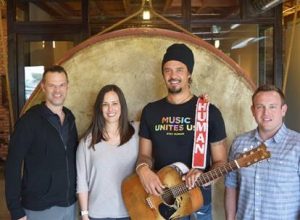 LOS ANGELES (CelebrityAccess) — Singer, songwriter, poet, filmmaker and humanitarian Michael Franti, frontman of the hip-hop/funk collective Spearhead, has signed a publishing deal with Position Music.
Through the publishing agreement, Position Music will seek sync opportunities for Franti's music in film, television, advertising, and gaming.
"We are excited and honored to welcome Michael Franti to Position Music and look forward to working with him for a long time to come," says Tyler Bacon. "Michael's social conscience and ability to narrate and bridge the difficulties of life through music is what makes his body of work unique and appealing. We look forward to doing many great things together."
Franti began writing music in the 1980s, including the standout project Disposable Heroes of Hiphoprisy, where he made his mark as an activist on social justice issues. In 1994, Franti formed Michael Franti & Spearhead but it wasn't until 2001 that the group cemented their position in the American music scene with the release of their seminal album Stay Human.
Michael Franti & Spearhead recently released their latest critically acclaimed album Stay Human Vol. II (via Thirty Tigers,) in addition to Franti's award-winning, self-directed documentary Stay Human and are currently on the road performing a number of headlining dates as well as co-headlining dates with Ziggy Marley and supporting dates with Sublime with Rome.