GLENDALE (CelebrityAccess) – Super Bowl LVII got off to an electric start – even before the Kansas City Chiefs and the Philadelphia Eagles entered their respective tunnels.
Country megastar Chris Stapleton, R&B crooner Babyface, and Abbot Elementary TV star Sheryl Lee Ralph kicked off the festivities at State Farm Stadium.
Emmy Award winner Sheryl Lee Ralph kicked off the night with the civil rights anthem, "Lift Every Voice and Sing." She was followed by 12-time Grammy Award-winning icon Babyface, who sang "America the Beautiful" while strumming a patriotic red, white, and blue guitar.
But when it came to bringing their A-game, Stapleton did just that and there were a lot of tears on the sidelines – even before Philly fell to KC. After the presentation of colors, 8X Grammy Winning singer/songwriter Stapleton (sunglasses included) took to the field with his guitar to give an understated and simple rendition of "The Star Spangled Banner" – our Nation's anthem, which was written by lawyer Francis Scott Key after watching The Battle of Baltimore during the War of 1812.
Joining Stapleton on the field was Academy Award-winning actor Tony Kotsur, who offered an ASL interpretation of the song. Stapleton let the gruffness in his voice do all of the talking as he easily strummed his guitar – giving one of the best anthem renditions in recent history.
You can watch Stapleton's performance below.
Watch Chris Stapleton perform the National Anthem at Super Bowl LVII on FOX.

2.12.23 • #SBLVII @NFL @NFLonFOX @RocNation pic.twitter.com/BNuZzBIwR9

— Chris Stapleton (@ChrisStapleton) January 24, 2023
A camera pan to the sidelines showed many players in tears as they sang along with Stapleton, including Eagles head coach, Nick Sirianni. Even the brothers Kelce had tears – one in a KC uniform and the other in Philly green. Following the emotional performance, an all-female pilot team made history with the Super Bowl flyover.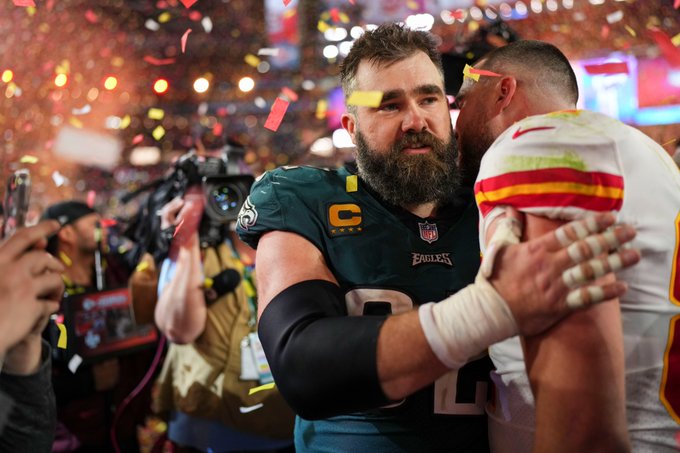 The evening's entertainment concluded with Rihanna belting out her hits during the 13-minute halftime show, along with the "special guest" she had been teasing – her brand-new baby bump. Ms. Rihanna used the biggest show in the world to tell the world she was going to be a Mama for the second time. She welcomed her first child with rapper A$AP Rocky last May.
She was noticeably subdued in terms of dance moves as she descended from the rafters on a mechanical platform, kicking off her set with "Bitch Better Have My Money," before jumping into "Only Girl in the World."
I do not envy those who had to whittle down her many hits and decide which would be showcased during her performance. Those that made the cut were "We Found Love" "Work" "Run This Town" "All of the Lights" "Diamonds" and lastly, the one we all know and love, "Umbrella." Jay-Z was in attendance I had hoped he'd make an appearance – but it was Rihanna's show alone. You can watch her show in its entirety HERE.