LOS ANGELES (CelebrityAccess) – Los Angeles landmark Rockaway Records recently acquired the world's largest collection of Creedence Clearwater Revival (CCR) memorabilia – including thousands of LPs, 45s, original test pressings, posters, autographed items, and more.
One of the highlights of the newly acquired collection includes a 1967 yellow label 45 by CCR when they were known as The Golliwogs. This rare 45 is one of only 6 copies known to exist.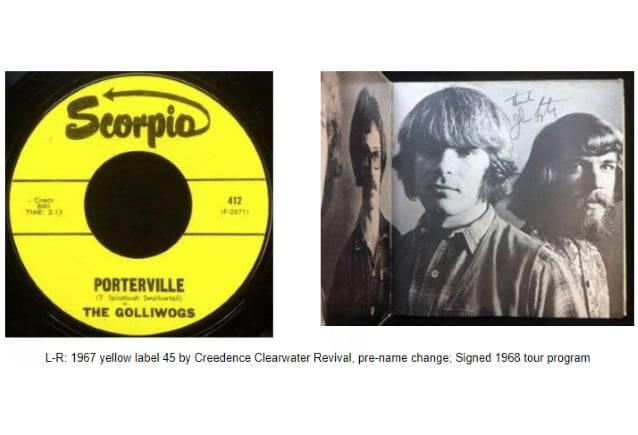 Additional items include a Fender Stratocaster signed by John Fogerty, RIAA platinum and gold award plaques, over 500 concert posters, and hundreds of concert tickets and tour programs.
What an amazing collection, especially the pre-Creedence stuff like a 1966 Golliwogs concert flyer and a Tom Fogerty & the Blue Velvets 45 from 1961!" – Wayne Johnson, Rockaway Records
While nearly every independent record store (and many chains) in Los Angeles shut its doors years ago, Rockaway Records remained open and shifted its focus to high-end collectibles. Co-founders and brothers Wayne and Gary Johnson started aggressively acquiring extensive record industry and personal collections of vinyl, concert swag, promo items, and other rarities.