NEW YORK (CelebrityAccess) The legendary imprint Arista Records has restarted, headed by label exec David Massey.
Sony has announced that it will make Arista a "frontline creative center," joining established labels Epic, RCA, and Columbia, according to Music Business Worldwide. Massey will serve as president and CEO of Arista and will report to Sony Music CEO Rob Stringer.
"We are excited to be reintroducing the iconic Arista brand as a full major label under the leadership of David Massey," Stringer said in a statement. "David is a visionary and progressive talent developer and his recent success at breaking new artists around the world only highlights his remarkable consistency of creative success year after year. As well as releasing new music to the world, David will use his vast experience in building new publishing and artist management ventures that will enhance Sony Music's overall music strategy."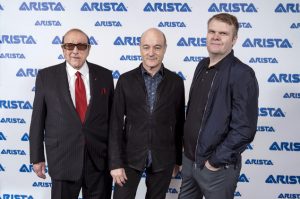 Massey was most recently president and CEO of Island Records where, since 2013, he has seen the successes of Shawn Mendes, Demi Lovato, Nick Jonas, The Killers, Elton John and others.
Arista was founded by Clive Davis in 1974 and brought forth acts like Whitney Houston, Santana and The Grateful Dead.
"I am really delighted to see the Arista name return to a place of prominence under an executive with the talents of David Massey," Davis saiid. "David is a true music man who has tremendous respect for artistry, and he is the ideal choice to carry on the label's great tradition."