NEW YORK (CelebrityAccess) Comedian Sebastian Maniscalco played four shows at Madison Square Garden in NYC Jan. 19-20, selling more than 72,000 tickets, bringing his tally in NYC to more than 100,000 tickets in a year, according to agency UTA.
United Talent Agency provided the following figures:
Most tickets sold in a weekend for any comedy engagement in the history of Madison Square Garden
Combining the sales of this historic weekend with his five sold-out Radio City Music Hall shows in April, Maniscalco has played to over 100,000 fans in New York City in less than one year.
The announcement comes as Maniscalco's comedy special "Stay Hungry," filmed at Radio City Music Hall in April, streams on Netflix.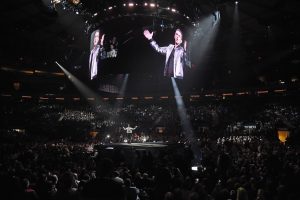 "Early on in my career I felt a connection with the audience in this region because so many people in New York/New Jersey/Philadelphia related to my family and upbringing," Maniscalco said. "From my early days playing Gotham Comedy Club, to our shows at the Beacon and Radio City, and now having the first one down at The Garden, I always feel at home on stage in New York City thanks to the crowd."
"We are proud that our legendary venues, the Beacon Theatre, The Chicago Theatre, Radio City Music Hall and Madison Square Garden, have been part of Sebastian's unbelievable trajectory. To have been part of his record-breaking journey to four sold out Madison Square Garden shows, putting him in the ranks of Andrew Dice Clay, Kevin Hart, Amy Schumer, Chris Rock and other comedic superstars who have sold out MSG, has been a thrilling achievement," said Darren Pfeffer, executive vice president, MSG Live.
Maniscalco talked about this success last year with CelebrityAccess.