AUSTIN (CelebrityAccess) – C3 Presents has released the 2018 Austin City Limits Music Festival Economic Impact Report, announcing a $264.6 million contribution to Austin's economy last year alone.
The figure represents a $10 million increase over the 2017 event ($255 million) and is the equivalent of close to 3,000 full-time jobs.
According to the report, the 2018 ACL Fest also generated $5.1 million towards future park improvements across Austin. That figure is in addition to fees, maintenance, and restoration of Zilker Park, which are paid annually by ACL Festival.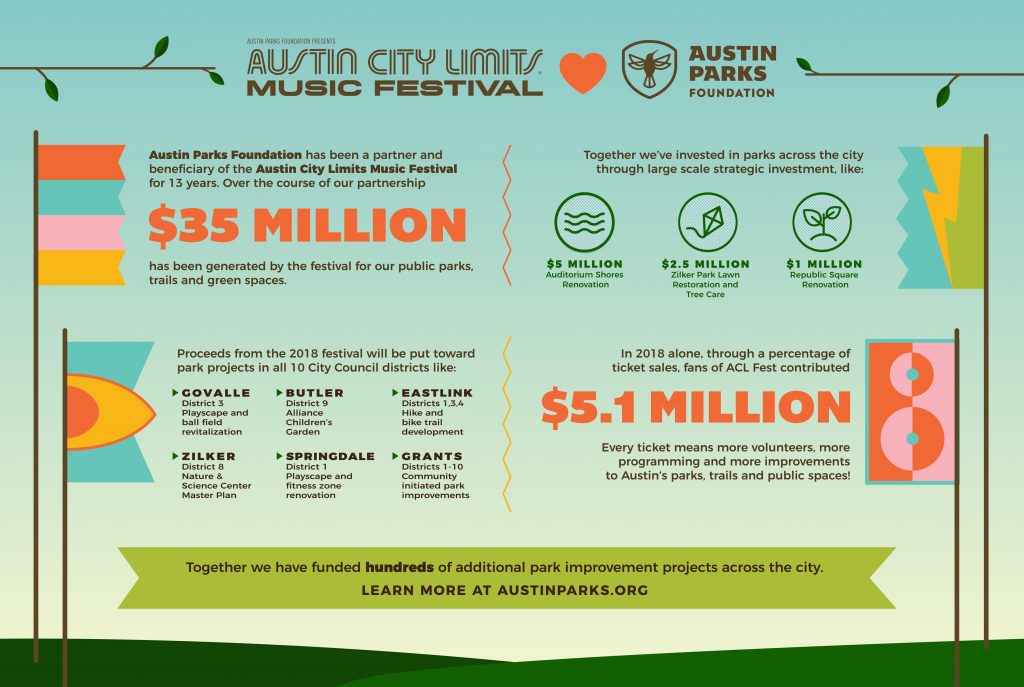 For the past 13 years, ACL Fest's partnership with the Austin Parks Foundation has provided more than $35 million to improve, maintain and revitalize Austin's public park system. This unique relationship ensures that a portion of every ACL Fest ticket purchase supports parks in every corner of Austin.
According to the report, proceeds from the 2018 ACL Fest will be put toward dozens of park projects in all 10 City Council districts, including but not limited to: Eastlink, Govalle Neighborhood Park, Austin Nature & Science Center, Alliance Children's Garden, and APF's ACL Music Festival Park Grants Program.
To access the entire 2018 Austin City Limits Music Festival Economic Impact Report, click here.
The 2019 Austin City Limits Music Festival will take place October 4-6 and 11-13. Tickets will be available April 30th at 12pm CT via www.aclfestival.com/tickets.