WASHINGTON, DC (CelebrityAccess) – Live Nation Entertainment (LNE) and Ticketmaster (TM) head to the US Capitol building today for the hearing probing the recent Taylor Swift ticketing fiasco and all that came after. Here's some background.
In November 2022, TM and its parent company, LNE found themselves in the middle of a "Swiftie" shitstorm after there were difficulties in buying tickets during the pre-sale for her upcoming ERAS Tour. The number of fans who tried to get tickets the morning of November 15 essentially "broke" TM's platform, and as a result, the ticketing giant canceled the general on-sale date scheduled for a few days later.
According to numerous media reports, TM planned for nearly 2 million fans on pre-sale day, but over 13 million logged on. Several "Swifties" decided to take matters into their own hands by filing suit against LNE and TM alleging price fixing, fraud, and antitrust violations. In the lawsuit, it says TM was supposed to send out the "Verified Fan" pre-sale codes the day before, but they were never received. The lawsuit(s) also alleges fans reached the wait queue for the chance to make a ticket purchase but were not able to do so after hours of waiting, others claim they didn't even get that far.
Reuters reports that TM encountered 3.5 billion requests from fans, bots, and scalpers that overwhelmed its website.
TM reports that 2.4 million tickets were sold for the Eras Tour in about 12 hours (a single-day record for any artist), despite the issues with the malfunctioning platform. Swift released a statement shortly after she received news of the ticket chaos, "It's truly amazing that 2.4 million people got tickets, but it really pisses me off that a lot of them feel like they went through several bear attacks to get them."
"I write to express serious concerns about the state of competition in the ticketing industry and its harmful impact on consumers. Reports about system failures, increasing fees, and complaints of conduct that violate the consent decree Ticketmaster is under suggest that Ticketmaster continues to abuse its market positions," Senator Amy Klobuchar wrote to Live Nation's CEO Michael Rapino in November.
"Ticketmaster's power in the primary ticket market insulates it from the competitive pressures that typically push companies to innovate and improve their services. That can result in the types of dramatic service failures we saw this week, where consumers are the ones that pay the price," she added.
Various organizations have long scrutinized TM over the years for being a monopoly within the ticketing sector. "I Knew You Were Trouble" is what the US Department of Justice must have been saying as it launched an antitrust investigation into LNE – culminating in the hearing taking place today.
"In hindsight, there are several things we could have done better – including staggering the sales over a longer period of time and doing a better job setting fan expectations for getting tickets." ~ Joe Berchtold, LNE President & CFO
The hearing, titled That's the Ticket: Promoting Competition and Protecting Consumers in Live Entertainment will take place in front of the full Senate Judiciary Committee today. The committee is currently chaired by Dick Durbin (D-Illinois). Chuck Grassley (R-Iowa) is the ranking Republican member on the committee.
The Senate Judiciary Committee released yesterday (January 23) its list of witnesses for the hearing.
Joe Berchtold – President and CFO, LNE, Beverly Hills, CA
Jack Groetzinger – CEO, SeatGeek (ticketing platform), New York, NY
Jerry Mickelson – CEO and President, Jam Productions (concert promoter), Chicago, IL
Sal Nuzzo – SVP, The James Madison Institute (political "right-leaning" think tank), Tallahassee, FL
Kathleen Bradish – VP For Legal Advocacy, American Antitrust Institute (political "left-leaning" think tank), Washington, DC
Clyde Lawrence – Singer-Songwriter with the band Lawrence, New York, NY
They will not be the only ones in attendance as protests form outside the US Capitol building.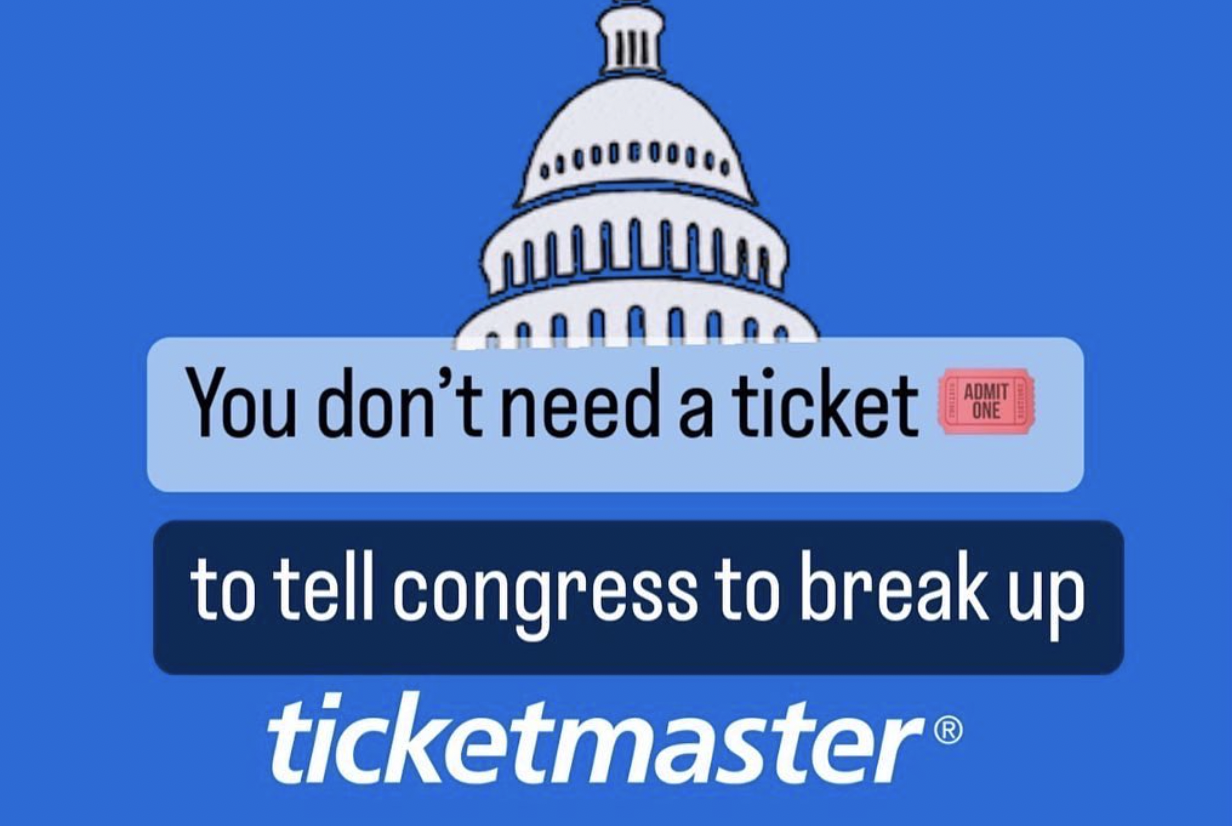 "Fans United to Fight Ticketmaster" Protest by Free Britney America – The small DC organization is hosting a protest on the steps today. Organizers of the event are encouraging others to join in-person or virtually to rally in support of ending the TM-LNE monopoly over the live ticketing industry.
Organizers are asking those who are attending to meet at the corner of First Street NW and Constitution Avenue NW. The protest is set to take place at the same time as the hearing (10 am EST). Free Britney America was founded in DC to help raise awareness of the abuse endured by pop star Britney Spears and others under conservatorships and guardianships.
In a press release regarding the protest, organizers Melanie Carlson and Cassandra Dumas said, "Our research into Britney's conservatorship found that LNE was a central player in monetizing her abusive conservatorship. Furthermore, we assert that the inordinate power that LNE has across the music industry secures a culture of silence around the abuse of Spears and other artists."
Furthermore, there are reports thousands of Swifties plan to protest today just steps away from the Capitol building on the US Capitol grounds. You can view a live stream of the front of the Capitol building HERE.
That's the Ticket: Promoting Competition and Protecting Consumers in Live Entertainment will begin at 10 am EST.
You can watch the hearing live HERE.