NEW YORK (CelebrityAccess) – Hip-Hop and Rap pioneers Run-DMC have announced they will take their final bow this April in their backyard and hometown of NYC (Hollis, Queens) at Madison Square Garden (MSG). The concert will also be featured in an upcoming documentary about the trailblazing rap outfit.
Run-DMC got their start in 1983 consisting of Joseph "Rev. Run" Simmons, Darryl "DMC" McDaniels, and the late Jam Master Jay (Jason Mizell), the man on the turntables who was murdered in his Queens recording studio on October 30, 2002.
McDaniels announced the news in an interview with Rock the Bells, noting there will be no second "final" show and that the group's decision was final. "Run-DMC is over. The only way Run-DMC gets back together is if the Beatles get back together. Can that happen?"
The trio is regarded as one of the most influential and famous acts in the history of hip-hop culture. With the release of their debut LP, Run-D.M.C. (1984), they became the first hip-hop act in history to score a gold record with hits like "Rock Box" and "Jam-Master Jay." King of Rock (1985) followed and went platinum – once again making them the first hip-hop group to achieve platinum status with hits such as "King of Rock," "You Talk Too Much," and "Roots, Rap, Reggae" which was the first rap/dancehall hybrid rap songs. Raising Hell (1986), produced by Rick Rubin – was next and became the first multi-platinum (3x) hip-hop album in history, giving fans "My Adidas," "You Be Illin," and "It's Tricky."
In addition to their musical accolades, Run-DMC also became fashion icons. While old-school hip-hop artists like Afrika Bambaata and Melle Mel tended to dress flashy, a spillover from the flashy Bowie days of the 70s, the Hollis, Queens trio instead opted for a more "street" or "real" style with Kangol hats, leather jackets, t-shirts, and Adidas sneakers without laces – actually following in the style of Jam Master Jay. Little did they know, that look would help define hip-hop fashion as a whole. In a later interview with fattrak, Rev. Run said:
There were guys that wore hats like those and sneakers with no shoestrings. It was a very street thing to wear, extremely rough. They couldn't wear shoelaces in jail and we took it as a fashion statement. The reason they couldn't have shoelaces in jail was that they might hang themselves. That's why DMC says 'My Adidas only bring good news and they are not used as felon shoes.'
In the spirit of combining rock and rap together way before the days of Kid Rock, Korn, and Linkin Park, they partnered with rock icons Aerosmith and re-made the single, "Walk This Way," which peaked at No. 4 on the Billboard Hot 100 – higher than Aerosmith's original version, which reached No. 10 upon its original release in 1977. It also led to the group signing a $1.6m endorsement deal with Adidas after the heavily-rotated MTV video showcased the trio wearing Adidas "Shell-toe" sneakers without laces.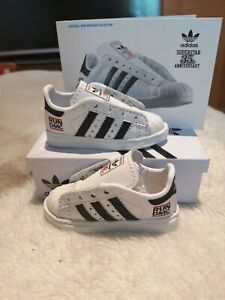 Tougher Than Leather was released in 1988 and the boys had changed it up a bit, not leaning as heavily on the rock-rap sound they had become known for. It didn't sell as well as Raising Hell,  but over the years has become more appreciated.
Rolling Stone named the trio one of its 100 Greatest Artists of all Time in 2004 – putting them at No. 48. MTV and VH1 named them The Greatest Hip Hop Group of All Time in 2007 and they were inducted into the Rock and Roll Hall of Fame in 2009 – the second hip-hop to be inducted after Grandmaster Flash and the Furious Five. In 2016, Run-DMC received the Lifetime Achievement Award at the Grammys.
In his interview, McDaniels says, "The final show that we are ever going to do is going to be at Madison Square Garden in April. It's going to be the last episode of the documentary we're doing."
He also stated that the show will feature big names such as Ice-T and Wu-Tang Clan.
"Run-DMC's last show ever … Cause it's time for Run to go be Paul McCartney and me to be John Lennon. We done did what we could do."
And you did enough boys, you did enough.