NEW YORK (CelebrityAccess) – The Music of Paul McCartney was held at New York's beloved Carnegie Hall on Wednesday night (March 15) as part of New York live music entrepreneur, promoter, and City Winery founder Michael Dorf's "music of" charity series. This year's sold-out fundraising show, the 18th in the series, celebrated McCartney's legacy with live performances from his vast songwriting catalog chronicling his time with the Wings, The Beatles, and solo work.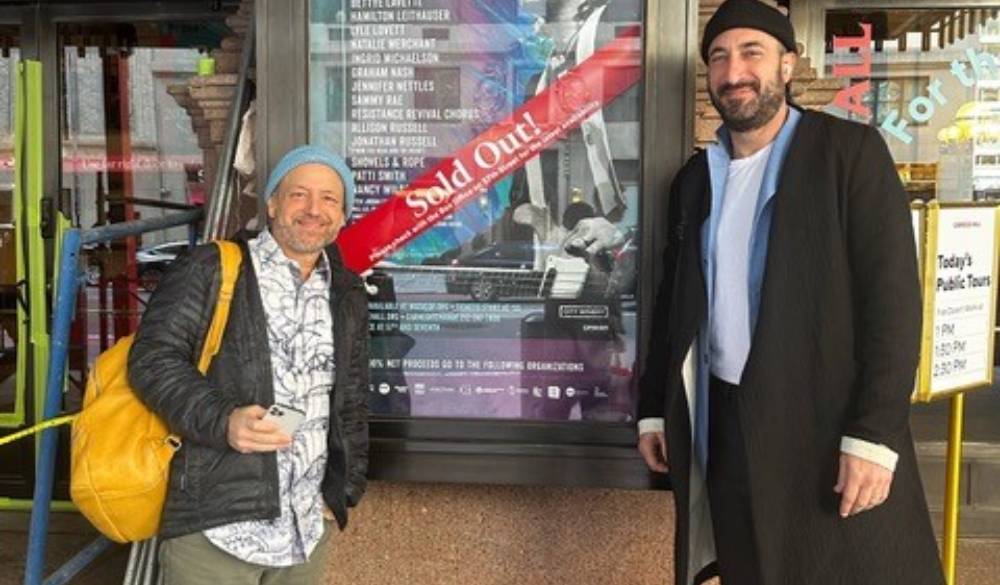 The "music of" series is a unique annual project Dorf produces as a way to raise funds for organizations including Grammy in the Schools, Fixing Instruments For Kids in Schools (FIKS), The Center for Arts Education (CAE), VH1's Save the Music Foundation, and the Newport Festivals Foundation, among others.
The McCartney "music of" show raised $140,000 in net profit, bringing the amount raised to $1.8 million over the past 18 years.
Dorf opened the show by welcoming back the audience after three pandemic postponements in 2020, 2021, and 2022. "Good evening. It is good to be back here, back in the second greatest music room in NYC after such a long break. We are finally back live and thank you so much for another sell-out."
Dorf took the time to reflect on and mention the loss of his friend Rita Houston from WFUV. "For 14 of the past tributes, she was the Voice of God from the side of the stage introducing the artists. She succumbed to cancer in 2020 and will be deeply missed. May her memory be a blessing!." He then introduced Christine Stone, a DJ from SiriusXM, as the night's Voice of God.
Dorf also shared a note he received from the music legend just hours before the show began, "I am so honored by you all doing this tribute for such a wonderful and worthy cause. It really is exciting! The only pity is I am out of the country at the moment – but please accept my deepest thanks for doing this. Sending love to you all – from the heart of my bottom," complete with a winking, smiley emoji.
The star-studded roster of entertainers included Graham Nash ("For No One"), Bettye Lavette ("Maybe I'm Amazed"), Wings co-founder Denny Laine with Heart's Nancy Wilson ("Band on the Run"), Lyle Lovett ("Yesterday"), Christopher Cross ("Mother Nature's Son" and "Mull of Kintyre" with Wilson & Laine), Jennifer Nettles ("Silly Love Songs"), Peter Asher ("A World Without Love" with Lovett), Glen Hansard ("We Can Work It Out"), and the New York City Chapter of the Resistance Revival Chorus ("Let It Be").
The chorus is a "collective of more than 60 women and non-binary singers who join together to breathe song and joy into the resistance and to uplift and center women's voices," according to their official website. They certainly uplifted those in attendance as they sang, swayed, and put their arms in the air feeling the positivity in the room. They left the stage to audience cheers and loud clapping, receiving the first standing ovation of the night.
Other performers were Bruce Hornsby ("I've Just Seen a Face"), Lake Street Dive ("Let Me Roll It"), Alexis Morrast ("My Love"), Hamilton Leithauser ("With a Little Help From My Friends"), Sammy Rae and her ukulele ("Heart of the Country"), Ingrid Michaelson ("I Will" and "Calico Skies"), The Cactus Blossoms ("And I Love Her"), Will Lee ("Ooh You"), and Shovels & Rope ("Helter Skelter").
Natalie Merchant was listed on the original line-up but sickness sidelined the singer the day before the show.
Other notable performances:
There was a surprise appearance from Patti Smith, who was not originally on the line-up and left her mark singing "She's Leaving Home," as only she could.
The Music Will Kids Group, comprised of four students from an NYC-based high school thanked their music teacher before launching into the hit, "Get Back."
Jonathan Russell of The Head & the Heart sang "Let Em In," leaving a lasting impression on Dorf who said:
"I love getting to meet and hear the development and interpretation of a song by someone I love. For example, I'm a huge Head & the Heart fan and Jonathan Russell's voice is very distinctive and rich. Hearing his take on McCartney's "Let Em In," allowed the listener to understand the song differently, with the annunciation on the lyrics changing how you may have thought of a song for over 40 years."
Allison Russell took to the stage to perform "Blackbird," dedicating her performance to the LGBTQ+ community as she and her band, consisting of oboe, sax, organ, bass, piano, and drums brought the house down.
The night's grand finale was a big group rendition of "Hey Jude," with the 3,000-capacity crowd singing along to every word. What a fitting way to pay tribute to two-time Rock & Roll Hall of Famer and one of music's greatest – Sir Paul McCartney.
McCartney was not in attendance but The Beatles legend showed his approval with a Twitter tweet:
Last night's tribute concert made this boy from Liverpool very happy – Paul
CelebrityAccess reached out to showrunner Dorf after the tribute who had this to say, "One of the special things I love about this project is all the great vibes backstage and during the rehearsals where legends meet and talk with each other – sometimes deciding on the spot to sing on each others' songs.
"Seeing Lyle Lovett and Nancy Wilson sing back-up with Denny Laine was just so cool. It felt like a one-day festival of many of my favorites."
Speaking of favorites, when prompted about which "Music Of" tribute show has been his favorite to date, Dorf couldn't pick just one.
"Like my children, it's hard to pick a favorite as so many have been very memorable. When Bruce Springsteen played his encore, everyone went wild. He told the audience, 'While this is a tribute, I am not dead or going anywhere.'
We also had the last live performance of REM before they quit. During the encore at their tribute, Michael Stipe took his final bow and walked me to the front of the stage, holding my hand to take another bow. That was special."
Past "music of" tributes honored Prince, The Rolling Stones, Aretha Franklin, Simon & Garfunkel, Joni Mitchell, Van Morrison, and more.
The musical director for the evening was Steve Jordan.
See below for several video clips taken from those in attendance.